! AboutDemo.htm >
Home
BECR
Message for Ian...

Hello Ian,
I hope all is well with you and family! Ronna says HI too.

This is a ***NON FUNCTIONAL*** Demo. It is a first cut of how I interpreted your document.

Please feel free to critique it in any way.

-Jerry

Questions/Comments/Assumptions:
Troughout the demo there will be comments and assumptions also.


1. I suggest you consider a subscription revenue model. For example: based on disk space, the company would get 5MB diskspace for $50 or 10MB for $80 per month. (the dollar figures are not realistic) They could do unlimited changes to the content as long as they are a subscriber in good standing. This simplifies the payment solution. Every month the system would charge their account for the subscription and they would only have to enter their card once. We could sweeten the pot for the subscriber by providing a way for customers to leave their contact information in the site, then, the subscriber could pick them up though their login to the site on the View Leads page, so they can initiate the contact. Like giving them some very warm leads to a sale.

Charging per page is difficult, problem prone, and more costly. Although it can be done.
This is just an example to spark a discussion about this. Of course, I will attempt to support which ever way you want to do it.

2. I do not know how the E-banking is done in Europe, here there are services such as CyberSource, or CyberCash that you design an interface with and they handle the transaction.

3. Color schemes, graphics, and animation can be added/changed at will.


Just let me know how far off or on I am and we can go from there. We will have alot to discuss if we decide to go foreword with this arrangment. Once we decide, then we can talk about compensation and other contract type things. Let me know what your son's E-mail address is so I can include him on all the discusions.

Here is a back of the napkin type scribble of the site map as I see it.
Since a picture is worth 1000 words...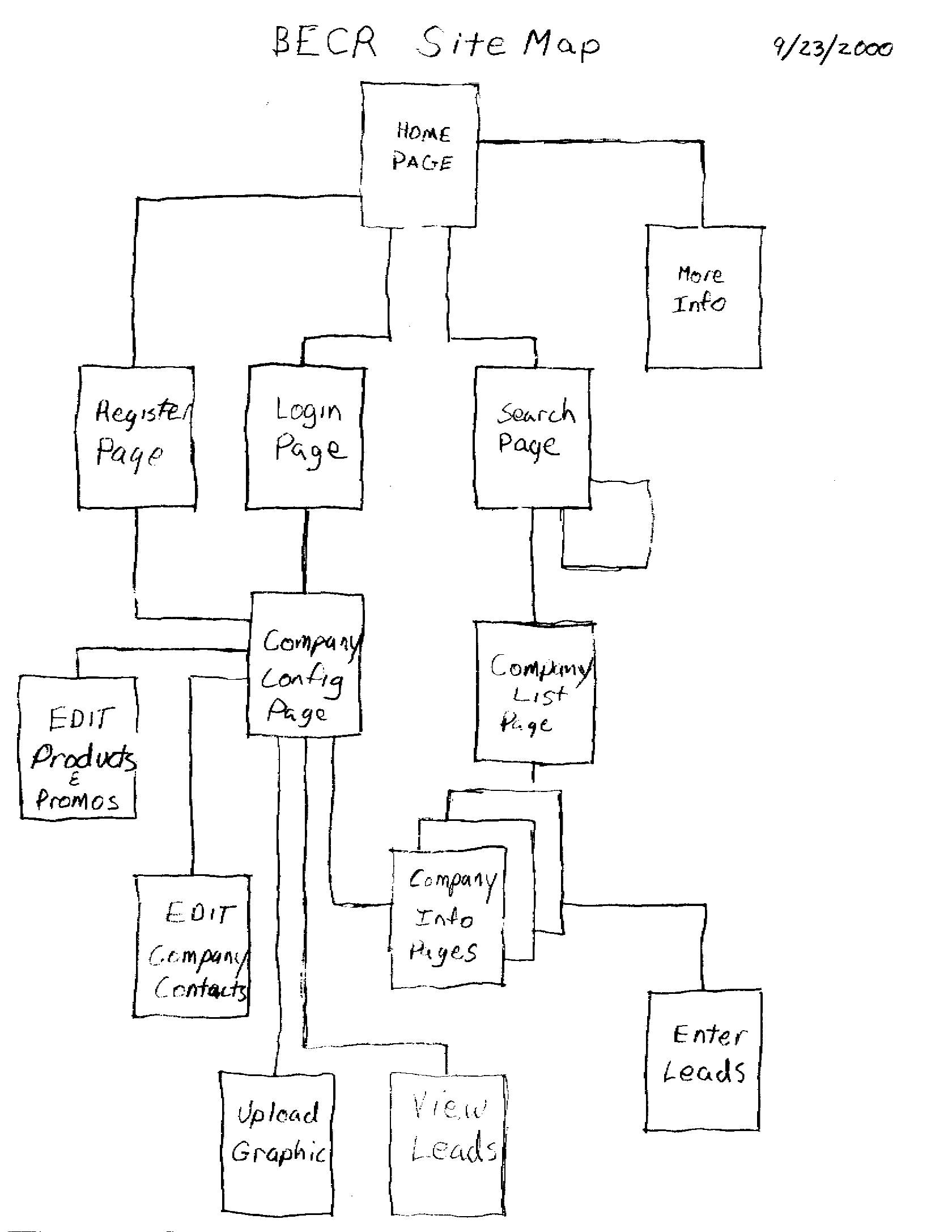 Enjoy...
Please E-mail comments to me at: JerryHutch@aol.com and/or JerryH@Point.com


Home